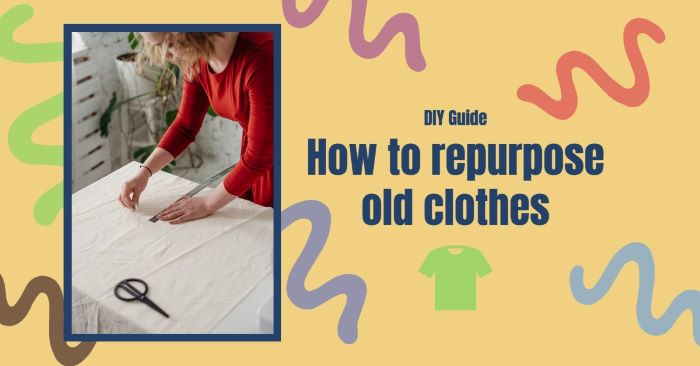 Do you have old clothes and fabrics taking up space at home? When donation isn't an option, DIY projects with old clothes are a great way to bring new life to these materials. From home decor to dog toys, there are countless options for repurposing your old clothes.
Accent wall with fabric picture frame centerpiece
Really make your accent wall stand out with a beautiful fabric picture frame. Consider using old shirts with fun patterns on your frame to contrast the wall. For example, you could use a bright floral print t-shirt to bring some color and energy to a dark wall.
Throw pillows from an old tote bag
Before you head to the store for new throw pillows, consider making your own from old tote bags. Many tote bags are made from canvas material, which is sturdy and stylish. Other materials like cotton, linen or denim also make excellent pillowcases.
DIY dog corner complete with dog toys
Denim is a fantastic material for crafting DIY dog toys. Denim is durable, so it makes for a good chew toy. Create a fun bone shaped toy by outlining the shape onto two pieces of denim and cutting out the pattern to sew together. Remember to supervise your pet when giving them a new toy.
Fabric scraps for paint job cleanups
If you intend to paint your interior walls or working on an art project, fabric scraps can be helpful. Fabric scraps can soak up extra paint quickly and help in the cleanup process. Rather than buy shop rags or waste paper towels, put your old clothes to use in your other home improvement tasks.
Other home decor ideas using a sewing machine
If you have a sewing machine, you can combine old fabrics into a blanket. Blankets make for wonderful gifts as they can be put to use daily or used for decor.
If you have a bunch of old clothes and fabrics, donating them can help others get much needed resources and helps to ensure the items are put to good use. Any leftover fabrics can be used around the home for your next DIY projects. Using old clothes and fabrics saves money and helps you to live a more sustainable life.